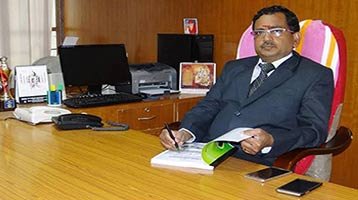 Dr.V. Venkatachalam, B.E., M.S.,M.E., Ph.D.
Principal
Erode Sengunthar Engineering College
Ensuring quality
higher education
is one of the most important things
we can do for future generations.
I am extremely pleased to write this message for the viewers of our college website. We at ESEC focus on engineering education to keep pace with mighty changes and challenges occurring today in this technological era. The management is very keen in providing high quality technical education at affordable costs to the students hailing from rural areas. We are happy that their aim is fulfilled to a large extent.
Apart from academics we encourage and ensure the development of our students in extracurricular and co-curricular activities to shape them as complete personalities. We endeavor to equip our graduates with global technical knowledge, at the same time, honing their soft skills so that they can best excel in their career. Also, we motivate and facilitate our students for attaining leadership qualities.
I am happy that our prestigious alumni are proving their worth to the organizations they are employed in. They are not only carving their bright career, but also enhancing the image of their alma-mater. Students who opt for their technical education in ESEC will enjoy a wonderful future with bright career options, globally.
Hope your journey with ESEC will give you a new outlook.
Wishing you the very best in your future.
With best wishes,
Dr. V. Venkatachalam