CAPACITY DEVELOPMENT AND SKILLS ENHANCEMENT
1. SOFT SKILLS
Soft skills play an important role for achieving professional growth and employment. With the knowledge of soft skills, one stand out in a crowd of job seekers with even mediocre skill and talent. There is no doubt that hard skills i.e. knowledge and technical expertise are prime requirement, for employability but without soft skills it becomes difficult for even highly talented people to corner a job. The most common traits asked by every prospective employer are positive work ethics, good attitude, and desire to learn and be trained.
Soft skills are a combination of interpersonal people skills, social skills, communication skills, character traits, attitudes, career attributes and emotional intelligence quotient (EQ) among others. Technical knowledge of any subject is considered hard skill. Soft skills are also called corporate skills. Soft skills can be more useful and practical. A definition based on review literature explains soft skills as a cluster of productive personality traits that characterize one's relationships in a social environment with other people and the key three abilities/elements are people skills, social skills and personal career attributes, in other words social skills is an umbrella term for skills under this functional elements
There are many soft skills the most sought after soft skills include:
PROBLEM-SOLVING SKILLS
If people had no problems, the existence of businesses would make no sense. Problem-solving skills, along with time-management and organizational skills could easily become the unofficial Holy Trinity of soft skills.
Analyzing
Benchmark development
Brainstorming
Drawing conclusions
Experimenting
Innovation
Insight
Project design
Solution design
Test development
Troubleshooting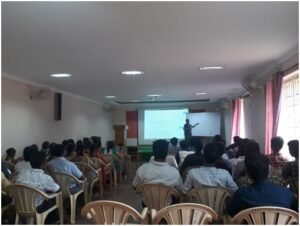 Ms.Shanthi,Aptitude Trainer from Six Phrases
TIME-MANAGEMENT SKILLS
Time management skills, are crucial to working efficiently and effectively. Here's a look at what this skill subset can refer to:
Assessment and evaluation
Delegation
Goal setting
Managing appointments
Meeting deadlines
Multitasking
Prioritizing
Resource management
Scheduling
ORGANIZATIONAL SKILLS
They say entropy is the natural state of things. This could be true, but only up to a point. The point at which your organizational skills come into play.
Collaboration
Delegation
Mental organizational
Physical organization skills
Planning
Prioritizing
Time management
Work-life balance
TEAMWORK SKILLS
This subset is crucial to your success in the workplace. Strong teamwork skills in combination with the other types of soft skills turn you into an A-player.
Communication
Conflict resolution
Decision-making
Influencing
Listening
Organizational skills
Persuasion
Planning skills
Problem-solving
Rapport-building
Reliability
INTERPERSONAL SKILLS
The most important subset of your soft skills comprises your people skills or interpersonal skills. These skills help you establish good relationships with your coworkers and others.
Ability to work under pressure
Adaptability
Communication
Conflict resolution
Creativity
Decision making
Dependability
Emotional intelligence
Mediation
Patience
Problem-solving
Relationship building
Responsibility
Self-motivation
Teamwork/Collaboration
CRITICAL-THINKING SKILLS
Critical thinking skills, also referred to as common sense, allow you to take a step back and judge a situation from a distance. They're indispensable skills in any kind of position.
Analyzing
Evaluating
Explanation
Inference
Interpreting
Open-mindedness
Problem-solving
Self-regulation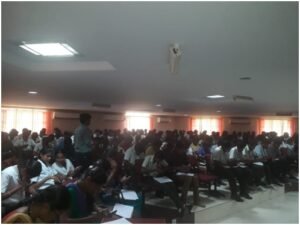 CONCEPTUAL SKILLS
With the help of conceptual skills you can visualize complex interdependencies, see the big picture, and find optimal solutions. These skills come in handy to people in managerial positions in particular.
Abstract thinking
Cognitive skills
Contextualizing
Creative thinking
Critical thinking
Decision making
Innovating
Logical thinking
Motivating
Organizational skills
Presenting
Problem-solving
CREATIVE-THINKING SKILLS
Creative thinking skills include a wide array of soft skills and abilities that let you see ordinary things from an extraordinary perspective. They help you find innovative solutions to various problems.
Active listening
Artistic design
Brainstorming
Communication
Creative writing
Open-mindedness
Problem-solving
DECISION-MAKING SKILLS
This is a great subset of skills for project management. Decisions have to be made, and the biggest challenge is to keep your cool and make the best one. Here's a list of different types of decision-making skills:
Consensus decision-making
Consumer decision making
Data-driven decision-making
Ethical decision making
Rational decision
Shared decision-making
Team decision-making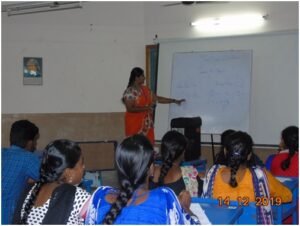 2. LANGUAGE AND COMMUNICATION SKILLS
Communication Skills
Good communication skills are a vital subset of soft skills. Employers value effective communicators able to express themselves clearly, who listen to what others have to say.
Active listening
Body language
Brevity
Clear speech and writing
Confidence
Cross-cultural communication
Friendliness
Negotiating
Nonverbal communication
Openness
Oral communication skills
Presenting
Public speaking
Storytelling
Written communication skills
To become fluent in English is almost all students' dream. From job search to career advancement, English is the key. It opens up a wide range of opportunities and helps one to utilize it to the maximum. Advancement in career is built upon excellent communication skills, and effective workplace communication involves, besides a correct and thorough knowledge of English, all the four basic skills of the language namely listening, speaking, reading and writing.
The Department of English organizes various programmed and activities to enable the budding engineers and technocrats to communicate effectively and appropriately by exposing them to tasks based on LSRW skills. Group activities make the session more lively and interactive and students are not taught but encouraged to participate.
The Communication Skills Laboratory stimulates the eyes and ears of the students to acquire correct pronunciation, vocabulary, spelling, etc. The activities related to the enhancement of students' English communication skills help them for professional success and progress.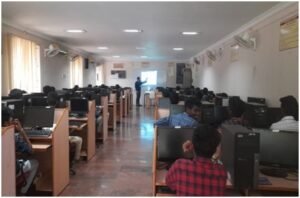 3. LIFE SKILLS – YOGA AND MEDITATION
Modern –day science confirms that the practice of yoga has several physical health benefits that include improved brain function and denser bones as well as immune health, improved nervous system functioning and strength. Yoga became widely valued because of the Indian nationalist movement as a way of building up pride and cultural identity. The practice of Yoga was widely prompted by powerful families, institutions activities until India attained its independence in 1947. Today, yoga is practiced world wide by millions of people in many forms and variations. Inorder to enhance the mental and Physical strength Yoga classes were arranged for First year students every year. Separate trainers for Girls and boys students were arranged.Foundation course which includes Suryanamaskaram, Pathanjaliyogam, Pranayamam were taught to the students.
BENEFITS OF YOGA
There are many benefits to the ancient practice of yoga both physical and mental form better posture to greater self – acceptance. Here are the main physical and mental benefits of yoga
PHYSICAL BENEFITS OF YOGA
Improved Posture
Better sleep
Increased natural energy level and vitality
Better Balance
Cholesterol decreases
Respiratory efficiency increases
MENTAL BENEFITS OF YOGA
Clam and clarity
Greater Confidence and generally more positive mood
More self- acceptance
Increased social skills
Sense of inner well – being and centeredness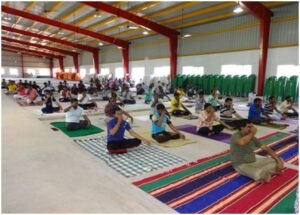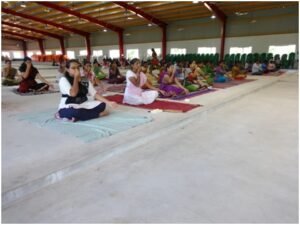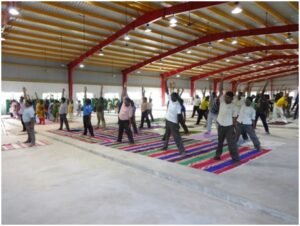 4. AWARENESS OF TRENDS IN TECHNOLOGY
The role of Technology in education is immense. The learning process for the students becomes easier as the technology progresses. Technologies that are used in schools and colleges such as having computer labs, and using high-end devices and instruments make it easy for students to understand the concepts
Artificial Intelligent has already received a lot of buzz in the past decade, but it continues to be one of the new technology trends because of its notable effects on how we live, work and play are only in the early stages. AI is already known for its superiority in image and speech recognition, navigation apps, Smartphone personal assistants, ride-sharing apps and so much more.
New Energy Solutions: The world has agreed to be greener for the sake of its landscapes and the energy we use. This results in cars running on electricity or battery and houses using greener choices like solar and renewable energy. What's even better is that people are conscious of their carbon footprints and waste; thus, minimizing it or turning those into renewable energy is even more helpful.
5. CAREER DEVELOPMENT
Eminent resource persons from various sectors and esteemed institutions are invited for providing training to the students, some of the major responsibilities of the cell are stated below:
Knowledge building sessions.
Training in basic communication skills
Guidance for competitive exams.
Training programs.
Seminar on career awareness.
Motivational lectures.
Motivation for self-employment.
Information about emerging career opportunities.
Special career opportunities for poor students
Formation of Various Clubs and Society
Industrial visit to enhance student knowledge.