Bio Medical Engineering
Lab Facilities
BIOCHEMISTRY AND BIOPHYSICS LABORATORY
The Biochemistry and Biophysics laboratory carries out students to bring chemical and physical approaches to the study of biological problems.

Th

is

laboratory

focuses

on

topics

that

range

from

DNA

transcription

to

cellular

degeneration.

This laboratory involved in these diverse processes, the investigators develop instruments

and

techniques

to

resolve,

quantify,

model,

manipulate,

and

simulate

biological




mechan

isms at molecular and cellular levels.
LIST OF EQUIPMENT
Microscope
Elisa reader.
Spectrophotometer
Colorimeter
Centrifuge Normal
Refrigerator
Haemoglobinometer & Neubaur's Chamber
Capillary tubes & Wintrobe's tube
PATHOLOGY AND MICROBIOLOGY LABORATORY

Pathology is a medical specialty that determines the cause and nature of diseases by examining and testing body tissues and bodily fluids. The results from these pathology tests help doctors diagnose and treat patients correctly. Microbiology includes culturing of clinical specimens, including feces, urine, blood, sputum, cerebrospinal fluid and synovial fluid, as well as possible infected tissue.
LIST OF EQUIPMENT
UV – Spectrometer
Hot Air Oven for Sterilization
Cryosectioning Freezing Microtome
Optical Microscope
Drying Oven
Autoclave
Sonicator and Vortex Mixer
Microbiological Incubator
Laminar Air Flow
Rotary Microtome
Fridge (Refrigerator)
Human physiology Laboratory

Human physiology is the study of functions of the human body. it is the study of the functions of cells, specific organs, cardiovascular physiology, respiratory physiology, reproductive physiology and effects of diseases on organ or system functions.
Microscope
Centrifuge Normal
Haemoglobinometer
Ophthalmoscope
Tuning fork
Neubaur's Chamber
BIOMEDICAL INSTRUMENTATION LABORATORY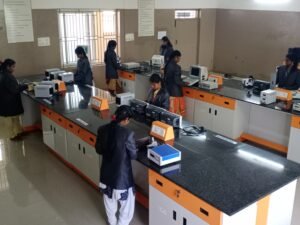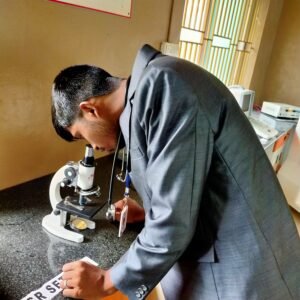 The

lab

is to provide knowledge to the students on design, conduct and implement the

experiments in the biological signals involving

biomedical instrumentation.

It focuses on

development of technologies for the measurement and manipulation of

parameters within biological systems, focusing on the application of engineering tools for




scienti

fic discovery and for the diagnosis and treatment of disease.



MAJOR EQUIPMENTS
1. PH Meter and Conductivity Meter.
2. Photo Transducer for Pulse Measurement
3. Blood Flow Measurement System
4. Multi Parameter Simulator
5. Function Generator & DSO
DIAGNOSTIC AND THERAPEUTIC

EQUIPMENT LABORATORY
The lab is to provide practice and training for the students on all major diagnostic and

therapeutic equipments. It involves recording and analysis of different Bio potentials and

to study the

various applications of ultrasound in the field of medicine.

It is also aimed to give overall idea about the clinical applications and transmission of bio

signals using telemetry techniques, sources of leakage current and methods used for

monitoring leakag

e current.



MAJOR EQUIPMENTS
1. Short wave & Ultrasound diathermy
2. ECG & Medical stimulator
3. Surgical diathermy & Electrical safety analyzer
4. Audiometer & Single parameter Telemetry system
MEDICAL IMAGE PROCE

SSING LABORATORY



The Computer center is established with

30

computer systems loaded with programming

software's

like C, C++, MATLAB,

and Lab VIEW software.

All the systems are provided with internet facility to access e

–

resources.

Apart from the regular classes, the center is used to provide hands on training pr

ogram

and workshops by effectively using software's for both internal and external participants to

enhance their technical knowledge.

The lab facility is also used for research and consultancy activities