Department of Computer Science and Engineering
Innovative Teaching Methods
Role Play
In this session, one set of students were holding the board which contains the plain text and one student is holding the key value board. Another set of set of students are holding the boards which contains the encrypted text. Using the plain text and key, student who is holding the key will convert the plain text into cipher text. From the observation of CNS theory class, students have done an activity to convert plain text into cipher text using Caesar cipher technique.
Peer Learning
After completing the switching concept in classes, the students are divided into various groups. From the observation of switching concepts, students are allowed to discuss with their peer mates to have a clear idea on the switching concept as well as the different types of switching techniques.
In this session, after learning the basic types of networking concepts from the classroom, students are insisted to discuss about various types of networks using the LAN TRAINER Simulator and to compare the advantages and disadvantages among those types of networking concepts. From this, students can able to analyze the different types of networking concepts comparatively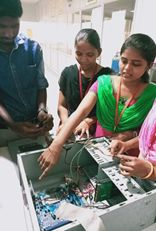 Demonstration
In this session, computer scraps are used to demonstrate the Input/ Output organization in the CPU. After completing I/O organization in the classroom session, students are allowed to discuss with their peer mates to have a clear idea on the I/O Organization
Project Based Learning
Department of Computer Science and Engineering had conducted, "CODE SCAPE" (An internal code hackathon) for the students to motivate them to learn to provide solutions for the real time scenario. In addition to this real time problems were given as Mini Project for the students.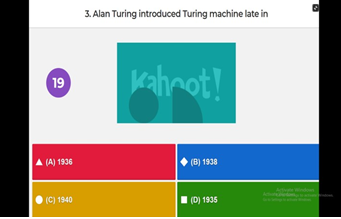 QUIZ – Using KAHOOT
In order to understand the concepts better, After completing the session, Multiple Choice Questions were Posted to the students. Thirty Seconds have been provided for each question. Maximum marks will be provided for the students those who are responding for the questions quickly. Finally, results will be displayed in the screen. By practicing this technique, students can able to retrieve something after learning it, and also it makes the students more likely to retain it for the long term.
YOUTUBE VIDEOS BY CSE FACULTIES